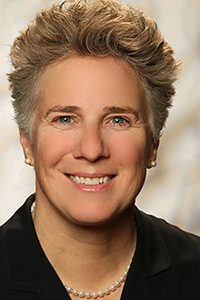 Betsy Mitchell is a former competitive swimmer who currently serves as a service-oriented educational leader, speaker and collegiate athletic director. A world record-holder, world champion and Olympic gold and silver medalist, Betsy has also served as a successful collegiate swimming coach as well as a high school athletic director and consultant.
While Olympic success would define many athletic careers, Betsy readily shares that her fondest memories of her swimming career were as an age-group swimmer and as a collegiate swimmer. Betsy began her competitive swimming journey at the age of five as a member of the Marietta, Ohio YMCA's Marietta Marlins swim team before she attended Mercersburg Academy in Mercersburg, Pennsylvania, where she continued competitive swimming during her high school years. She graduated from Mercersburg in 1983 and remains passionately involved with the Academy having served as a longtime member of its Board of Regents.
Following high school, Betsy attended the University of North Carolina at Chapel Hill where she competed for the North Carolina Tar Heels swimming and diving team during her first year there, for the 1983–84 NCAA season.

At the 1984 Summer Olympics in Los Angeles, Betsy won a silver medal for her second-place performance in the women's 100-meter backstroke, finishing with a time of 1:02.63. She also earned a gold medal by swimming the backstroke leg for the winning U.S. team in the preliminary heats of the women's 4×100-meter medley relay.
After the 1984 Olympics, Mitchell transferred to the University of Texas at Austin and swam for the Texas Longhorns swimming and diving team from 1985 to 1988. She won nine NCAA individual titles in addition to leading the Longhorns to four straight NCAA national championship teams from 1985-88.
While a college student, Betsy competed at the 1986 World Championships where she set the American and world record in the 200-meter backstroke (2:08.60); that world record stood for five years, while the American record stood for 19 years. Swimming World Magazine named her as its American Female Swimmer of the Year in 1986.
She received the Honda Sports Award for Swimming and Diving, recognizing her as the outstanding college female swimmer of the year in 1987–88. She was inducted into the Texas Longhorns Hall of Honor in 2000.
In 1988, Betsy competed at the Summer Olympics in Seoul, South Korea, where she earned a silver medal for swimming the backstroke leg for the second-place U.S. team in the women's 4×100-meter medley relay in the preliminary heats. Individually, she also swam in the final of the women's 100-meter backstroke, finishing fourth in the final with a time of 1:02.71.
At the conclusion of her swimming career, Betsy served as the Women's Swimming coach at Dartmouth College from 1990 to 1996, where she took up the sport of rowing for fun and to stay in shape — two years later, she represented the United States at the 1994 World Championships of Rowing in the women's double scull.
In 1998, she was inducted into the International Swimming Hall of Fame as an "Honor Swimmer."
Since that time, Betsy has been a passionate advocate for the developmental benefit of youth and college sports, women in leadership and is leading the conversation about the state of college sports in the United States, which, she advocates, is in desperate need of a rebranding and reframing of the role athletics play on college and university campuses. She has twice been a high school athletic director — Laurel School for Girls in Shaker Heights, Ohio and Thomas Worthington High School in Worthington, Ohio — as well as now on her second collegiate directorship after becoming the Athletic Director at Allegheny College in Pennsylvania from 2006 to 2011.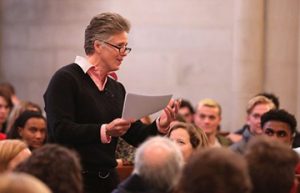 Betsy is currently the Director of Athletics, Physical Education and Recreation – the first woman to hold that position – at the California Institute of Technology (Caltech), in Pasadena, California. While not at work, you can find her walking her yellow lab Bella, cultivating her garden or adventuring around the world. These days, her athletic pursuits are confided to hiking, biking, gardening, pickleball, paddleboarding and golf.